Fellows
Pierson's Fellowship includes professors and staff at the University (Fellows), and Pierson alumni or others who have made contributions in society (Associate Fellows). In addition, Pierson has Resident Fellows, who live and in the College alongside the students. 
An important aspect of Pierson's Fellowship is their involvement with students. First-years meet with a Fellow as their First-year Advisor early in their first semester.
The Fellows meet regularly, and their meetings usually include a cocktail hour, dinner, and a talk from an invited guest. Students are routinely invited to attend these meetings. 
Fellows and Associate Fellows receive notice at the beginning of each academic semester as to when the Fellowship will meet, and receive monthly notices as to the guest speakers. Students receive email invitations and have an opportunity to sign up to attend if they are interested in meeting with the Fellowship or hearing the guest speak on a topic of interest to them.
Meetings are open to members of the Pierson Fellowship, or to others by special invitation.
Meet the Resident Fellows:
Lewis Ampidu Clorméus (PhD) is a native of Port-au-Prince, Haiti. Currently, he is an associate research scholar in the Department of African American Studies at Yale University, and a professor at the Faculty of Ethnology at the Université d'État d'Haiti (UEH). He holds a Master's degree in History, Memory, and Heritage from the UEH, and a PhD in Sociology from the UEH/ École des Hautes Études en Sciences Sociales (EHESS). He has done Postdoctoral research at the Université de Lyon.
Dr. Clorméus is a specialist in Haitian intellectual history, the management of cultural heritage, and the relationship between the (Haitian) state and religions. He served as a research advisor to the UNESCO Chair in History and Heritage at the UEH, a foreign correspondent of the Center for Studies in Social Sciences of Religion (CéSor) at the EHESS, secretary of the Haitian Society of History, Geography, and Geology (SHHGG), and a member of the Haitian committee of the International Council of Museums (ICOM Haiti). He is also a member of the editorial board of several academic journals. He has conducted academic research in France, where he had served as an Associate Research Director of the Foundation Maison des Sciences de l'Homme (FMSH) and a visiting researcher at the Institute of Latin American Studies/Research and Documentation Center on the Americas (Sorbonne Nouvelle University).
Dr. Clorméus has also been a visiting professor at the Laboratory of Excellence Constitution of Modernity (LabEx COMOD) at the Université de Lyon. He is the author of several academic articles and books, including the following recent publications: Le vodou haïtien. Entre mythes et constructions savantes (Riveneuve Éditions, Paris, 2015); Duverneau Trouillot et le vodou. Réflexions d'un intellectuel haïtien du XIXe siècle (Éditions du CIDHICA, Québec, 2016); Le Vodou, le prêtre et l'ethnologue: Retour sur la polémique Joseph Foisset /Jacques Roumain (Haïti, 1942) (Maisonneuve & Larose/ Hémisphères éditions, Paris, 2020); in collaboration with Philippe Martin and Abdourahmane Seck, he coedited Les religions à l'épreuve du Covid (Maisonneuve & Larose/ Hémisphères éditions, Paris, 2023). He is co-directing two other volumes that will be published in 2024: Evangelicals, Catholics, and Vodouyizan in Haiti: The Challenge to Live Together (forthcoming Bloomsbury Publishing) and Vodou and Christianity in Interreligious Dialogue (forthcoming Wipf and Stock Publishers).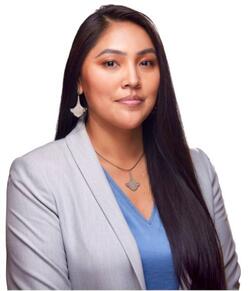 Dr. Diana Onco-Ingyadet is the Associate Director of Academic Affairs for the Yale Young Global Scholars (YYGS) program. Prior to joining YYGS, Diana was the Assistant Director for the Native American Cultural Center at Yale. She also taught a course with the Ethnicity, Race, & Migration department titled, "Indigenous Cultures in a Global Context (ER&M 379)." Diana's previous professional experiences include a large public university, educational non-profit, and an elementary classroom teacher in the state of New Mexico.
Dr. Diana Onco-Ingyadet is Navajo, Kiowa, and Comanche. Diana is of the Reed People Clan and born for the Comanche Nation. Her maternal grandfather is of the Red Running into the Water Clan, and her paternal grandfather is of the Kiowa Tribe of Oklahoma. Diana grew up in Norman, OK, but her maternal family lives in Monument Valley, UT. 
Diana received her bachelor's degree in Applied Indigenous Studies from Northern Arizona University. She received her master's degree in Higher and Post-secondary Education from Arizona State University. In 2020, Diana received her doctorate degree in Organizational Change and Leadership from the University of Southern California that focused on Native American/Alaska Native graduation rates and student affairs at a public university.