Facilities
Pierson College boasts some of the nicest facilities out of all the residential colleges.  Just inside the York Street gates you will find our beautiful Dining Hall, Common Rooms, and Library. Downstairs, our basement area, renovated in 2004, boasts many amenities for Piersonites.  Whether you're looking for a place to workout, play ping pong or a game of pool, grab a late-night snack, bake some cookies, practice a musical instrument, or do some laundry, you need look no further than our basement facilities. And, on cold, snowy nights, you can use the basement to access the Dining Hall from your suite without going outside!

If you notice any damage or have any concerns about any of the facilities, you can

1.Call Customer Service at (203) 432 6888

2. Go online to http://www.facilities.yale.edu/students.shtml

3. Call or email our Facilities Superintendent

sheila.dawson@yale.edu
(203) 432-6126

 
Sheila Dawson
, Facilities Superintendent
Sheila Dawson is new to Yale University's residential life, but she is no stranger to facilities management. Since 2013, Sheila has worked as a superintendent at Yale University. She directs and supervises all custodial services, as well as collaborate with physical plant and ground services, as she did in Athletics; in particular, she oversees customer-focused teams that provide cleaning and maintenance services throughout the department. From 1999 until her arrival at Yale, Sheila worked as the Connecticut regional manager for Morgan Management in New Haven.
Sheila is a native of St. Thomas, US Virgin Islands, and graduated from the University of New Haven with a bachelor's degree in financial accounting and a master's degree in business administration. Her ambition is to continue her education and obtain a doctorate.
Sheila enjoys spending time with her family outside of work, particularly with her niece, Destiny, who is pursuing a degree in fashion merchandising at Johnson and Wales University. Sheila is also a 15-year veteran of the semi-pro women's football league, having played for the Connecticut Crush and the Boston Renegades, the three-time defending national champions.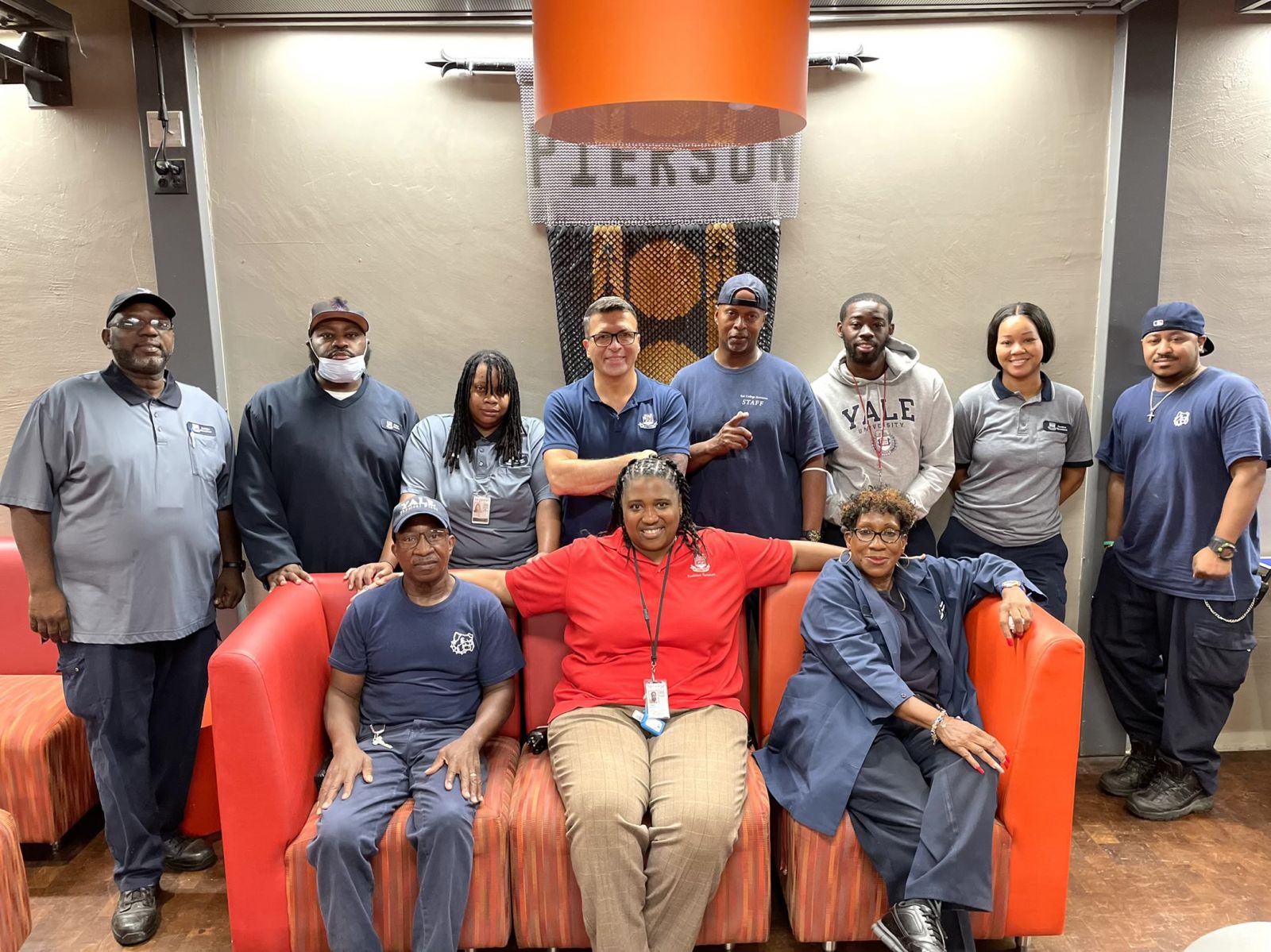 Front Row: Larry Felder, Sheila Dawson (Facilities Superintendent), Rose Wentworth
Back Row:  Warren Robertson, Schymon Griffin, Vivienne Sullivan, Russell Taylor, Michael Blue, Joseph Bratten, Gina Bryant, Skye Douglass
Not Pictured: Eleanor Fisco, Ronnie Prescott