Pierson Aides
Pierson Aides work in the administrative office of Pierson College and help Professor Davis, his Senior Administrative Assistant, and the rest of the Pierson staff keep things running smoothly! They are in the office to help students in many ways: to help you when you want to borrow DVDs, pick up packages or checks, reserve Pierson spaces, if you're locked out of your room during the day, or to help you out however possible. You may also see them working at one of the many Pierson events throughout the year. Check out our Pierson Aides for the 2022-2023 school year!!
---
Seniors:
Manuljie Hikkaduwa
Manuljie is a senior majoring in History of Science, Medicine & Public Health and on the Global Health track. She was born and raised in Sri Lanka and is currently living in New York with her family. With interests in international children's health and advocacy, she is a part of Yale UNICEF and YULAA. She is also involved with Sri Lankans at Yale and volunteers with Bridges ESL. Catch her lounging around the Pierson courtyard and taking an alarming amount of photos.
Sebastian Ibarraran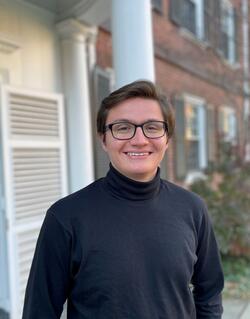 Sebastian is a senior from McLean, Virginia, about 15 minutes away from Washington, D.C. He is majoring in Chemistry at Yale and is also pursuing the certificate in Data Science. He works in Prof. Timothy's Newhouse's lab on projects relating to the organic synthesis of naturally occuring molecules. You can also find him around campus dancing with Ballet Folklórico Mexicano de Yale and advising high schoolers through the college application process with Matriculate. During his free time, you can usually find him going on runs toward East Rock, watching his beloved 49ers on Sundays, or heading to Arethusa's to get some of their delicious chocolate milk.
Danielle Neil
Danielle Neil (she/her) is a current junior studying Global Affairs and receiving an advanced language certificate in Korean! She hails from sunny Miami, Florida, and often struggles with New Haven's cold weather as a result. On campus, she enjoys singing music with her a cappella group, Shades of Yale, and is always down to grab a Jojo's honey lemon ginger tea from Chap's.
Simi Olurin
Simi Olurin ('23.5) is a Political Science and Film/Media Studies major from Wilmington, Delaware. In her free time she loves watching movies, spending time with friends, and discovering new places to study around campus. Outside of work, she is involved in the Yale Daily News, Smart Women Securities, Yale Mock Trial Association, The Yale Record, and Yale Women's Club Soccer.
Tanzi Sakib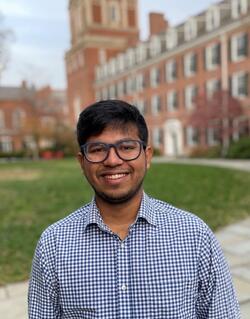 Tanziuzzaman "Tanzi" Sakib, was born and raised in a small village in central Bangladesh and later spent a year in Texas as an exchange student. At Yale, he is a proud member of Pierson college and is currently double majoring in Mathematics and History, mainly focusing on US political history from the early national period. Since his sophomore summer, Tanzi has also been working on a research project that studies the history of economic development in South Asia. His primary academic focus, however, lies in Mathematics and he dreams of becoming a Math professor someday. Outside the classroom, Tanzi is involved with Yale Outdoors, Yale Undergraduate Math Society and the William F. Buckley Jr. program where he is a student-fellow. In his free time, he enjoys reading obscure history books, going for a short hike, or watching old Youtube clips from the glory days of the Dallas Cowboys!
Graham Stodolski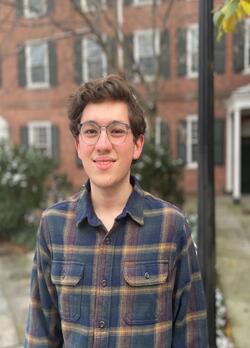 Graham Stodolski is a junior from Brooklyn, NY studying Computer Science. When he's not hard at work in the Pierson Office, he can be found playing saxophone with the Yale Jazz Ensemble and Yale Undergraduate Jazz Collective, teaching programming to New Haven Public School students with Code Haven, or hitting the slopes with the Yale Ski Team. He loves chicken parm, curating niche Spotify playlists, and, as a former film major, talking about movies.
Samantha Trimboli 
Samantha is a junior from Staten Island, New York. Currently, Samantha is studying Computing and the Arts. She is a co-leader of the Yale organization SheCode. During her free time, you can often find Samantha hunched over a computer in the CCAM or making-away in the CEID. She is a member of the Blended Reality Lab on campus and her main passion is Game Design and Animation. If you see her on the street you can always spark a conversation about anime or Kpop.
Andrew Weitzman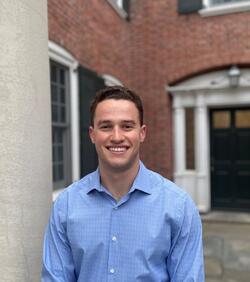 Andrew is a senior in Pierson College from Cleveland, Ohio. He is majoring in Political Science and is particularly interested in issues of racial equity and community organizing. He is also a Pierson FroCo! Aside from the Pierson Office, Andrew is also involved in the Men's Club Ultimate Frisbee Team, the Yale College Democrats, PCC, and the Undergraduate Student Title IX Advisory Board. He enjoys being outdoors, fitness, watching and talking about sports, reading, laughing, and making (mediocre to bad) dad jokes. If you see him running to a class or an activity for which he is inevitably almost late, smile and wave!
Juniors:
Matthew Bray
Matthew is a junior from Birmingham, Alabama majoring in Sociology with a concentration in Health & Society. At home he enjoys quality time with his six cats, and in New Haven he can be found taking pictures of courtyard squirrels and birds. He is Head Aide for Events in the Pierson Administrative Office, and he is President of the Pierson College Council. When not planning Inferno, Pierson Day, or study breaks, you can find him baking in the student kitchen or studying at Haas Art Library. His email (matthew.bray@yale.edu) is always open for suggestions for Pierson events!
Alexander Hoang
Alex is a junior from Lebanon, Pennsylvania, a rural town by the Amish countryside. He is a Global Affairs major and interested in human rights, law, and advocacy. At Yale, he is a writer for the Yale Review of International Studies and volunteers through the Migration Alliance at Yale. In his free time, you can find him enjoying art history, doing ceramics, or exploring the local food scene.
Iris Li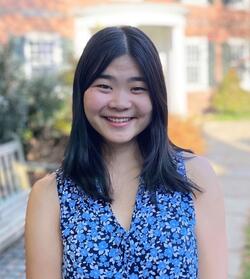 Originally from State College, Pennsylvania, Iris is a junior studying Economics & Math and pursuing the Statistics & Data Science certificate. She currently serves as Yale College's Student Body Vice President, and she's involved with the UP fund and Yale Students for Christ. She also works as a Writing Partner at the Poorvu Center. In her free time, she's particularly fond of taking long walks around campus, drinking a good chai latte, and watching UNC men's basketball during March Madness.ᐧ
Alexandra McGuire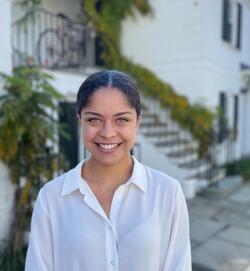 Alexandra McGuire is a sophomore studying Ethics, Politics and Economics. She is originally from Washington DC, although she has also lived in New York, Chicago and Dubai. Alexandra is on the board of the Migration Alliance at Yale (MAY), where she serves as the director of the Immigration Group. She is also an analyst on the Investment Board of a women's finance group called Smart Woman Securities. In her free time, Alexandra enjoys cooking and spending time with friends. On a sunny day, you can find her with her suitemates on a picnic blanket in the Pierson courtyard.
Kalina Mladenova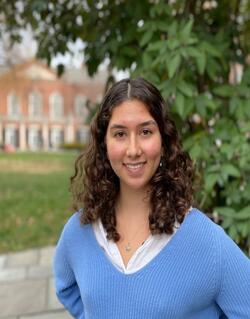 My name is Kalina. I am a junior from Sofia, Bulgaria studying Mechanical Engineering. At Yale, I am involved with the cooking club, the international students organization, and the school of art. My favorite part about Pierson are the people, they really feel like a family. Laying in the leaves in the courtyard is one of my favorite activities at Pierson.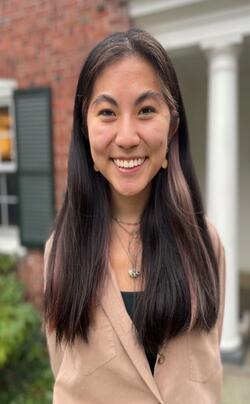 Lydia Monk is a junior in Pierson College from Eau Claire, Wisconsin. She is studying Cognitive Science, focusing on language and mind, and pursuing the French language certificate. Lydia is a proud FOOT leader and Expedition Coordinator for Yale Outdoors. Outside of working as a Pierson Aide and as the Pierson Sustainability Liaison, you can find Lydia hosting a radio show with WYBC student radio, biking to her next class, or studying in the courtyard with the squirrels.
Sophomores:
Eesha Bodapati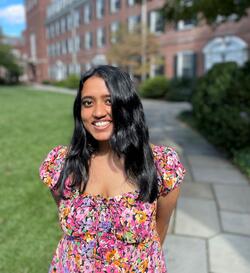 Eesha Bodapati (she/her) is a sophomore majoring in Cognitive Science, and is from Mumbai, India. On campus, she is involved with the Canine Cognition Lab, South Asian Society, Women's Leadership Initiative, Legal Aid Association, and the dance team Kalaa. She is also a Peer Liaison for the Office of International Students and Scholars. In her free time, you can find her hanging out on Cross Campus with friends, getting boba from Loose Leaf, or trying to befriend Dr. D's dogs, Josie and Cai!
Kiana Flores
Kiana is a sophomore in Pierson College and was born and raised in New Haven. She is planning on majoring in Political Science and is working towards a Chinese language certificate. At Yale, she is an undergraduate tour guide, a New Haven REACH college mentor, a Yale College Council New Haven Engagement chair, and a member of a local advocacy group, the New Haven Climate Movement. When she's not cooped up in the Pierson rotunda studying, you can find her working out with Yale Triathlon or having coffee at Willoughby's. 
Marcus Lisman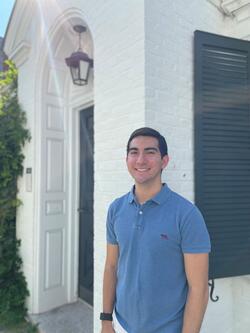 More information coming soon.
Diego Ramirez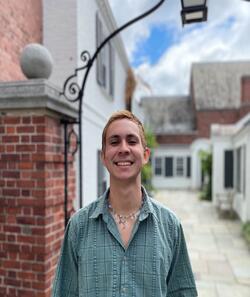 Diego is a sophomore from Sacramento, California. They are an E&EB major hoping to work in wildlife research in the future. They are also involved with PCC, MEChA, and FOOT! Usually they can be spotted on campus wasting time or listening to music too loud to hear anybody else.
Ashley Reyes
Ashley is a proud Chicana in her sophomore year from Stockton, California although her second home is Mexico! She is majoring in Ethnicity, Race, & Migration at Yale and is also a prospective Political Science major. Over the summer she participated in a fellowship at the California State Capital and simultaneously interned for KIVU Immigration Law Firm, whom she continues to work for. On campus, you can watch her dance with Sabrosura: Yale's Premier Latin Dance Team or DanceWorks! During her free time, she's constantly watching flight prices for her next trip, planning another trip that most likely will not make it out of the group chat, or taking night walks with some hot chocolate.
Cormac Thorpe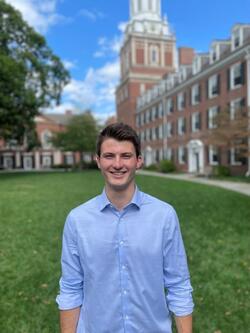 Cormac Thorpe (he/him) is a sophomore from New York City studying Political Science and Modern Middle East Studies. At Yale, Cormac is the Trip Director for the Peace and Dialogue Leadership Initiative, a fellowship focused on civil-military dialogue on the Israel-Palestine conflict; is involved in the Yale Review of International Studies and Hemispheres through YIRA; and does legal translation for Integrated Refugee and Immigrant Services. He enjoys backpacking, playing Bananagrams, and listening to new music.