Sustainability Liaison
The Pierson Sustainability Liaison (SL) works with the Yale Office of Sustainability in a variety of roles that relate to environmental wellbeing within Pierson College and Yale's campus as a whole. Much of this work involves creating, proposing, and executing various environmental projects, all of which fall within monthly environmental themes. Each month of the school year has a different theme (food systems, climate action, materials, etc.), and the SL works closely with the Pierson Operations Manager to design events, projects, and presentations that fit with the particular theme. For example, during "food systems" month (September 2019), the SL organized a campus-first dining pilot-project in Pierson Dining Hall. This project ranked the environmental impact of each entree during dinner for one week and surveyed students to gauge if the posters impacted the foods students chose. The project received a lot of positive response and is now being used to advocate for larger implementation. Through this position, the SL also conducts waste and energy audits in Pierson, delivers educational presentations and emails to staff and students on waste management, travel, diet, energy usage, etc., and organizes other student events such as climate change workshops, environmental film screenings, and information sessions.  To learn more please take a look at this article.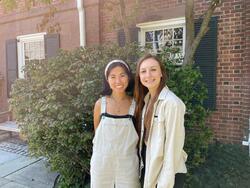 Pierson's Sustainability Liaison for the 2022-2023 school year will be Lydia Monk Anastasia (Anna) Oehlerking.
Lydia Monk '24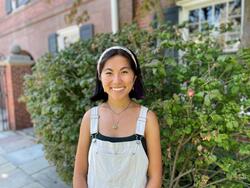 Lydia Monk is a junior in Pierson College from Eau Claire, Wisconsin. She is studying Cognitive Science, focusing on language and mind, and pursuing the French language certificate. She is the returning Sustainability Liaison for Pierson and is passionate about sustainable food systems. Lydia became interested in sustainability after her time at farmer's union camp and is excited to find new ways to reduce waste and overconsumption in daily college life. Outside of working as a Pierson Aide and sustainability liaison, you can find Lydia hosting a radio show with WYBC student radio, biking to her next class, or studying in the courtyard with the squirrels.
Anna Oehlerking '25
Anna is a sophomore in Pierson College and is from just outside of Duluth, Minnesota. She is majoring in Environmental Engineering and is considering a double major in Ecology and Evolutionary Biology, as she is interested in renewable energy infrastructures and their influence on ecosystems/environmental conservation. Anna is on the Yale Trap and Skeet Club and the Yale Climbing Team. She enjoys hiking, kayaking, and vanilla lattes, and has a goal to visit every U.S. National Park!