History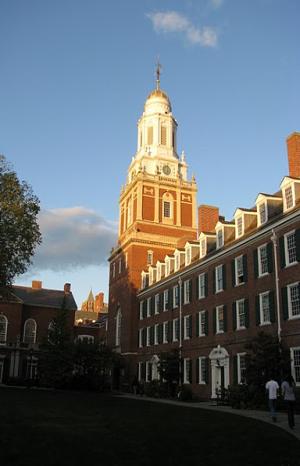 Pierson College (PC) is a residential college founded in 1933 at Yale University. The College takes its name from Abraham Pierson (1646-1707), one of the founders of the Collegiate School, which later became Yale University – a statue of Abraham Pierson stands on Yale's Old Campus.
Yale University constructed the Pierson College buildings in 1933 with major elements being in the Georgian architecture or "Georgian Revival" style, and including a prominent tower, inspired by that of Philadelphia's Independence Hall. James Gamble Rogers, Yale Class of 1889, was the architect responsible for the original design of Pierson College.
Yale renovated the College in 2003-2004, with the major effort directed at the modification of existing suites and rooms, the movement of the Dean's Office and the addition of a new building and basement facilities. Pierson shares the new basement facilities with neighbor and unofficial rival residential college, Davenport College. The College includes a large grass courtyard, and is located between Park and York Streets in New Haven, CT. 
Pierson's famous "song," heard annually at "the Game" between the Yale and Harvard football teams, starts off with: " 'P' is for the 'P' in Pierson College; 'I' is for the 'I' in Pierson College," and continues in predictable fashion.
Among the traditions and activities for which Pierson is known is the Pierson Press, one of the most active of Yale's many traditional letterpress print shops. It was founded over half a century ago and nurtured by a succession of Pierson Heads of College including John Hersey, Quincy Porter, Gaddis Smith, Harvey Goldblatt, and, currently, Stephen Davis. The Press for many years was located in a converted squash court in Pierson Tower, designed by Charles Willard Moore of the Yale School of Architecture. During the renovation of the college in 2004, the Pierson Press was relocated to enhanced facilities in the basement, where it is now co-located with the Davenport Press in a greatly expanded Book Arts Center that includes half a dozen presses, over 1000 cases of hand type, a book bindery, paper mill and more. Over 75 Pierson and Davenport students attended the college's rigorous Apprentice Course during the Fall of 2005.