Intramurals (IMs)
Pierson IMs are open to any Piersonite regardless of your athletic abilities. Enthusiasm is the only requirement! And if love of the game or Pierson spirit isn't enough incentive, the more you participate, the more Buttery Bucks and fun Pierson gear you can earn! (Gear that isn't available to the Pierson public at-large.)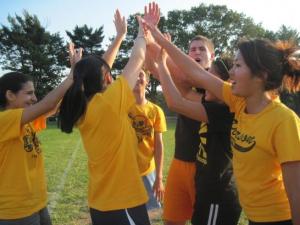 Intramural Secretaries organize sign-ups for each season, keep track of participation, and do everything intramural-related. The Intramural Secretary for Pierson for the 2022-2023 school year is Ellie Jose '23. Be sure to contact her with any questions you may have!
Below are the sports available, and you can find Pierson's standings and game results at the official Yale Intramural page.
Fall
Winter
Spring

Coed Golf
Coed Table Tennis
Coed Tennis
Coed Football
Men's Football
Women's Soccer
Men's Soccer
Coed Volleyball
Men's and Women's Cross Country

Men's Basketball
Women's Basketball
Coed Swimming
Coed Bowling
Men's Squash
Women's Squash
Men's Volleyball
Women's Volleyball
Coed Water Polo
Coed Ice Hockey

Coed Softball
Coed Ultimate
Coed Soccer
Coed Billiards
Coed Badminton
Coed Golf
Coed 4x4 Volleyball
Coed Dodgeball
See you at the games!