First-Year Counselors
Geraldine Hernandez-Marin (she/her) '23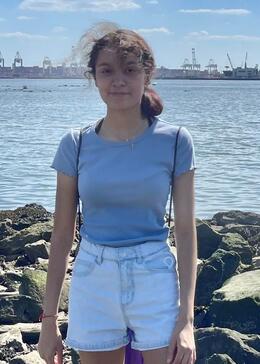 Geraldine Hernandez-Marin (she/her) is from Elizabeth, NJ, and she is studying Psychology on the Neuroscience track. She hopes to one day attend medical school. On campus, Geraldine is a Spanish interpreter for the HAVEN Free Clinic, and she sings as a soprano 2 for Yale's premier SSAA jazz and swing A capella group, Proof of the Pudding. She is also a research assistant in the Clinical and Affective Neuroscience Lab where she studies the relationship between drug use and risky decision-making.
In her free time, Geraldine loves to watch Netflix and YouTube documentaries (give her some recs!), and she spends all her money on mocha lattes from Donut Crazy. Geraldine is super excited to meet the new class of Piersonites! 
Elijah Hong '23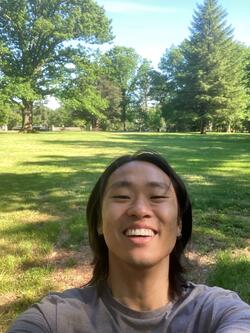 Elijah Hong grew up in Tennessee in a sleepy town called Nolensville thirty minutes outside of Nashville. At school, he studies Ethnicity, Race, & Migration and (sometimes) Statistics & Data Science. On campus, you can find Elijah practicing for the fencing team, doing all-nighters at the Asian American Cultural Center (AACC), and occasionally doing crunchy things with the Yale Office of Sustainability. Before retiring from extracurriculars, Elijah taught Asian American History through the Immigrant History Project, planned events for the Asian American Students Alliance, and did other *Asian* things (whatever that means) at Yale. In their free time, Elijah enjoys riding their bike around New Haven, annoying their cat, and cooking. He's so excited to meet the Class of 2026!
Charlie Mayock-Bradley (he/they) '23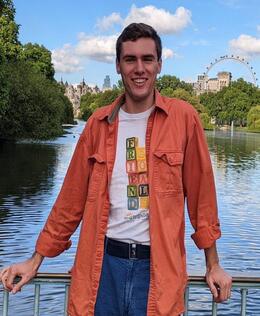 Charlie Mayock-Bradley (he/they) grew up in small-town Lexington, Virginia, and majors in Political Science and Spanish. During his time at Yale, Charlie has been a staff member at the Yale Women's Center, a volunteer for the Undergraduate Legal Aid Association, and a co-president of Bridges ESL, a student organization that provides free English lessons to New Haven residents. Currently, he is spending his summer in New Haven taking classes and working as a fellow for the Frederick Douglass Project for Justice.
 In his free time, you can find Charlie going for long walks and runs around campus, binge-watching reality TV, or playing his saxophone. Ask him about his definitive ranking of New Haven coffee shops (#TeamWilloughby's) and his research on LGBTQ+ organizing in the rural South! And most importantly, WELCOME PIERSON COLLEGE CLASS OF '26!!!
Gonna Nwakudu (she/her) '23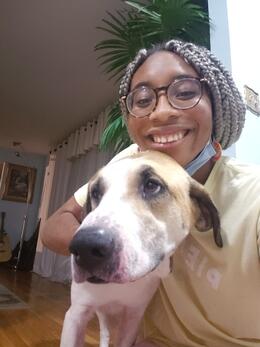 Gonna Nwakudu (she/her) is a premed student from (the) Chicago (suburbs) studying Molecular, Cellular, and Developmental Biology on the Intensive track. At Yale, Gonna is involved in genetics research at the Yale School of Medicine, where she constantly resists the urge to bring baby Zebrafish home as pets. Gonna also participates as a board member of the Yale Nigerian Students Association, co-director of Yale's oldest improv troupe The EX!T Players, and writer and layout editor for the Yale Scientific Magazine.
You can find her all over campus roller skating, knitting, playing the ukulele, or doing whatever hobby she just happened to pick up. Gonna is super super excited to meet the Class of 2026 and make lots of new memories!
Samantha Trimboli '23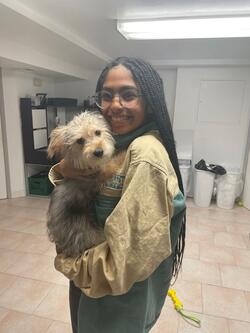 Samantha Trimboli (she/her/hers) was born and raised in New York, Staten Island to be specific (she knows, not as exciting). Samantha is a senior Computing and the Arts major hoping to go to grad school for Computer Graphics and Animation. On campus, Samantha works a variety of jobs as not only a FroCo but a Pierson Aide and monitor for the digital lab. She often finds herself contributing to art spaces at Yale, whether that be through the blended reality lab or various residential college galleries. Her current interest lie in video games, crochet and working out. Samantha values her Pierson community and the future they will have together. (Also the dog's name is Morty)
Andrew Weitzman '23
Andrew Weitzman (he/him) is from Chagrin Falls, Ohio (a suburb of Cleveland). He is majoring in Political Science and is particularly interested in issues of racial equity and community organizing. Beyond trying to be involved in all things Pierson (working in the Pierson Office, being on Pierson College Council, etc.), Andrew is also a member of the Men's Club Ultimate Frisbee Team, the Yale College Democrats, and the Undergraduate Student Title IX Advisory Board. 
When not studying, Andrew enjoys playing, watching, and talking about sports, being outdoors, reading, laughing, and making (mediocre to bad) dad jokes. He also has an obsession with Harry Potter and can frequently be found listening to the audiobooks for at least the twelfth time. Lastly, and most importantly, he is incredibly excited to be a FroCo this year and cannot wait to welcome all the first years to our Pierson family!
Rachel Willis (she/her) '23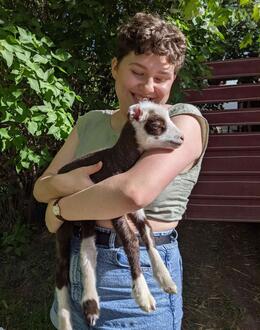 Rachel Willis (she/her) is from the small town of Colton, Washington and studies the History of Science and Medicine. On campus, Rachel has been a part of Community Health Educators, where she taught health education to middle and high school students in New Haven, and First-Years in Support of New Haven, where she helped introduce first-years to the city of New Haven through community organizers and local non-profits. She has also led FOOT trips for incoming first-years, backpacking along the Appalachian Trail amidst mosquitos, leeches, and lightning storms (oh my!). 
Rachel can be found providing the city of New Haven with coffee as a barista at GCafé, dragging houseplants into the shower for their weekly watering, or hosting craft nights with friends (knitting, anyone?). She loves serendipitous encounters with strangers and can never turn down a long walk. She can't wait to see you on campus in the fall!
Beichen Zhang (she/her) '24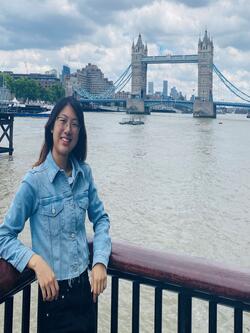 Beichen Zhang (she/ her) is from Shanghai, China, and she is majoring in Economics. She loves exploring different subjects and has a particular interest in the social sciences. On campus, she has been involved as a Peer Liaison for the Office of International Students & Scholars, an academic strategies mentor, and a campus tour guide. She's also an active member of the Wushu club.
In her free time, Beichen loves taking leisurely walks in New Haven, getting to know people and their stories, and traveling! This summer (2022), she's studying abroad at Oxford (and hoping her Harry Potter Hogwarts dream would come true!!) She can't wait to meet the Class of 2026 in the fall!