Matteo Godi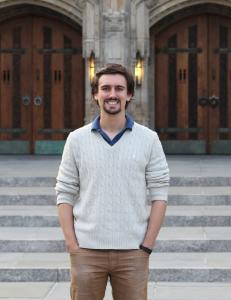 Name: Matteo Godi
Hometown: Ponte Taro (Parma), Italy 
School: Law School, JD '18
I was born and raised in a small town in northern Italy, where my family still lives. I moved to the United States in 2011, as the first member of my family to attend college. I graduated in May 2015 from Yale, where I studied (i) Ethics, Politics & Economics and (ii) Philosophy. Pierson is my second home and I live a couple of doors down from the college, on Park Street.
While I am not sure what my career path will end up being, I am generally interested in civil rights law, criminal law, legal theory, and constitutional law. I love cooking (mostly Italian food, but I'm trying to branch out!), traveling, photography, and simply hanging out while drinking some good (Italian) red wine. I have played on the Water Polo Club Team since my freshman year (even though I don't get to practice as much as I'd like to these days!). I love finding ways to get involved with the undergraduate community, and I continue to coach the women's Water Polo Club Team.
I look forward to meeting you all at Pierson events or in the dining hall, and feel free to reach out with any questions!